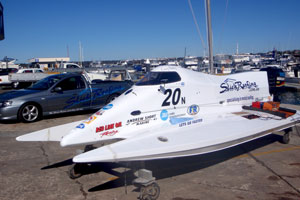 Craig Bailey has been driving and developing his boats with Australian boat builder Peter Dukic since 1993, in that time countless APBA and F1 Championships have been raced and won.
Now, as a 7 x National F1 Champion and still the only Australian to ever win a round of the UIM F1 World Series, the pair have come up with the latest design branded , the EXTREME Hull.
Craig Bailey has won the most prestigious outboard trophy in Australia – the Arch Spooner Gold Cup Australian Unlimited Outboard Championship – for an unprecedented record 9 times at the St George Motor Boat Club spectacular held on Sydney's Kogarah Bay.
The win was the team's return to racing for the 2008 year and followed extensive work rebuilding the boat in the off season. With a new event sponsor of Slick Roofing joining the team and a busy two weeks putting the finishing touches on the boat and engine we were ready to go. visit his website www.craigbailey.com.au