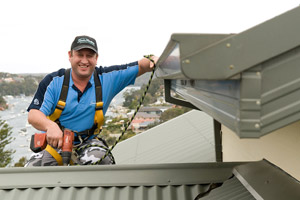 Residents in Sydney 's southern suburbs are turning to the sky for extra water according to local Sutherland roofer, Matt Slick.
Ensuring roofs are collecting water efficiently, replacing old gutters and installing water tanks, has become fashionable across the region as residents look for economical and environmentally
sustainable ways to better manage water.
"People are responding to Sydney 's water problems and taking things into their own hands," said Matt, owner of Miranda-based company Slick Roofing. "The logic of using what nature provides us, here on the coast, is taking hold and my job is no longer just about roofs and gutters, it's about 'rainwater management'."
To most effectively capture and store rainwater, several key steps need to be taken. The roofs themselves should ideally be clad in a durable material, such as COLORBOND ® steel, that efficiently channels water down into the gutters. These then need to quickly take all the water, without splashing or leaking to the downpipes which drops the rainwater into water tanks. Ideally none is lost on the way and that rainwater entering the tank is free from debris.
"The two most important factors," explained Matt, "are the correct installation of the building materials and of course their quality. There's no point having a roof that collects huge amounts of rainwater and a water tank, but a crumbling, filthy gutter!
Corrugated steel has long been used on roofs to help collect water in Australia , starting with the early settlers. Today's incarnation, COLORBOND ® steel, however, does last significantly longer with its resilient pre-painted surface.
According to Matt: "COLORBOND ® steel is extremely durable and comes with a 12 year warranty* for gutters and up to 30 year warranty* for roofs. Also, it's good for effectively channelling water down into the tank. Homeowners like it too, because it matches the colours of their roofs!"
To store the rainwater, a range of water tanks are now available depending on the shape and size needed and again steel is preferable because of its strength. These can be fitted in a number of ways, either to the house itself, elsewhere in the garden, or even underground.
"It's great to see people across Sydney's south not just talking about saving rainwater, but actually doing something about it too," said Matt. "Harvesting the clouds is good business for me and it's good for the wider community too. Most importantly, it's a sustainable and long-term solution, so we know it will keep benefiting us long into the future."